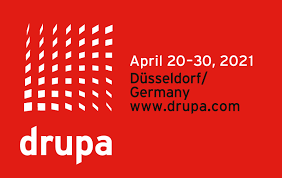 DRUPA, the world's biggest print show, has been deferred a year and will now take place in Düsseldorf, Germany between 20-30 April, 2021.
NEWSAGENTS and NFRN members Himanshu Patel of Watford and Krishnasamy Chiyamalan of Dartford have died from coronavirus. Mr Patel was 51, married and with twin boys believed to be in their teens. Mr Chiyamalan, who was married with two children, was in his 40s.
WITH horse racing off the card, the Racing Post has temporarily suspended publication of its print edition, while the operation's news service continues online.
THE Stationers' Company Innovation Excellence Awards, scheduled for the end of June, has been cancelled.
THE Leader newspaper in North Wales raised £5,000 in less than a week with an appeal to raise funds for the Wrexham Maelor's League of Friends for equipment for patients in Wrexham and Flintshire.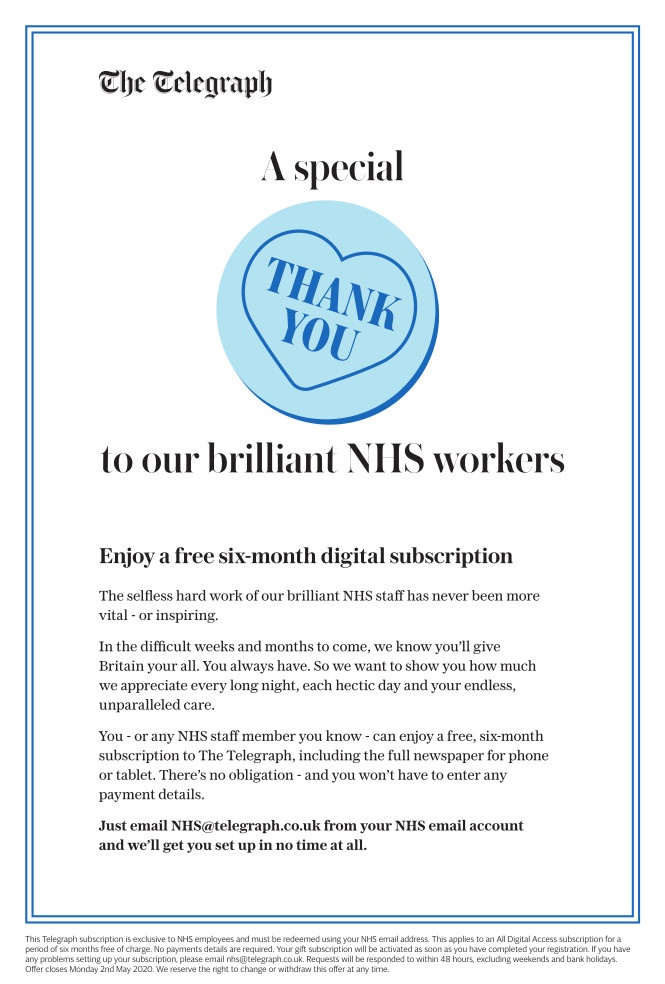 THE Telegraph is offering NHS workers six months' free All Digital Access subscription for full newspaper, phone or tablet.
ROUGHLY 150 of Archant's regional journalists are being furloughed.
REACH is to furlough a fifth of staff with all employees to take a 10% pay cut. The publisher has also cut management pay by 20% in a bid to mitigate costs and conserve cash. All of Reach's regional and national titles are expected to continue operating.
JPIMEDIA has put 10% of its editorial workforce on furlough, cut the salaries of those who continue working by 15% and cut directors' salaries by 20%. No one earning less than £18,000 has been furloughed or had pay cut. It has also suspended publication of its free papers delivered door-to-door and the West Sussex Gazette, Crawley Observer, Hemel Hempstead Gazette and Buckingham Advertiser have had their print run reduced.
PA MEDIA: 39 sports journalists and five racing journalists have been put on paid leave under the coronavirus job retention scheme. Twenty-two sports journalists will continue to work for the news agency. The PA wire news operation is not affected. Senior executives at the group have agreed to cut their salaries by 30%.
WELSH members of the Independent Community News Network have been awarded emergency grant revenue funding of £8,500 by the Welsh Government to help sustain them over the coming months.
DMG media staff are to be asked to take a pay cut as a result of the Covid-19 emergency. Those earning over £40,000 could see pay cut between 1-26%, which is to be replaced with shares in DMGT. The move was announced in order to avoid furloughing staff.
SHARES in Fujifilm jumped 15% in the third week in March after reports that an influenza medicine it makes also works against Covid-19.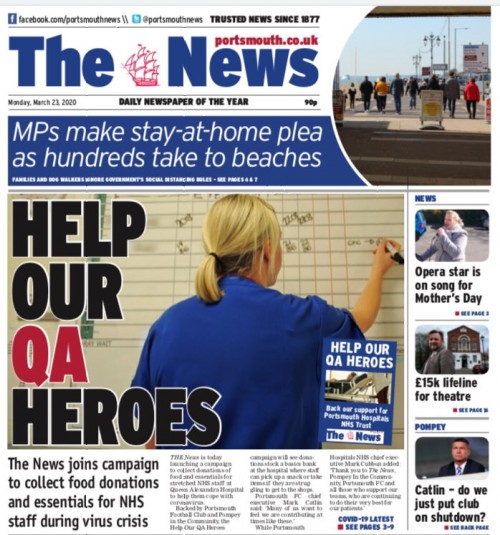 THE News in Portsmouth has launched a food donation drive for healthcare workers. 'Help our QA heroes' aims to collect donations of snacks, drinks and essentials for the city's Queen Alexandra Hospital.
NEWSQUEST'S Glasgow Times is being distributed free of charge to local care homes in the area.
THE US and UK's largest listed news businesses have lost more than £15bn from their market capitalisations since the global Covid-19 crisis began, a Press Gazette investigation has found. Between them, News Corp, the New York Times Company, Gannett, DMGT and Reach lost nearly 21% of their total value on UK and US stock markets between 28 February and the Easter weekend – a figure equal to 21% of their total value.
THE Telegraph has launched a new In Other News weekly e-newsletter offering subscribers a respite from the comprehensive coverage of the pandemic. Each week, the newsletter will offer highlights from across the paper, including culture, food, interviews and more.