Fujifilm has announced a restructuring of its senior management team in its UK graphics systems business.
At a time when offset printers are under greater pressure than ever from the combined challenges of rising aluminium prices, falling print runs and advancing digital print technology, continued innovation and creative thinking are essential.
Fujifilm's says innovations like its PLATESENSE programme are examples of the sort of forward-thinking required to keep driving this sector forward. As the initiator of this programme, Chris Broadhurst, the former general manager of the UK graphic systems division, has been promoted to head of offset in Europe to drive the business forward on a European level. Broadhurst will be based in Dusseldorf and starts immediately.
"I'm excited about this new challenge," says Broadhurst. "Despite being at the forefront of the rapid advances in digital print technology in recent years, Fujifilm has never lost sight of the importance of innovation in offset print processes and technology.
"Offset print output continues to be much higher than digital output globally and Fujifilm has a long and deserved reputation for helping offset printers boost profitability through the unrivalled performance and durability of our Superia plate range. Our new PLATESENSE programme takes this to another level altogether and I look forward to working with litho printers across Europe to help them to transform their businesses, boosting productivity and profitability and safe-guarding their futures."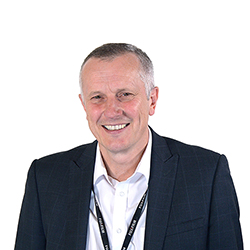 Andy Kent (above), former national sales manager, has been promoted to divisional manager of the UK graphic systems business. Kent brings more than 30 years of industry experience to his new role and will be based at the company's Bedford headquarters. Coinciding with this change, the UK offset sales team will now be led by Will Hearn, and Alice Murray takes charge of the inkjet team.
"I'm delighted to be taking on the role of divisional manager," says Kent. "Fujifilm is a forward-thinking company at the forefront of technology developments in both the offset and inkjet sectors of our industry. New developments in our Acuity, Onset X and Jet Press ranges have all been made recently and there is still more to come. There are also some exciting new plate product announcements in our Superia range on the agenda this year and we look forward to providing more details in due course."
"We will be offering the best possible service and support to new and existing customers, introducing them to the very latest industry technologies, and to work with them to find the most creative and effective ways to drive their businesses forward."