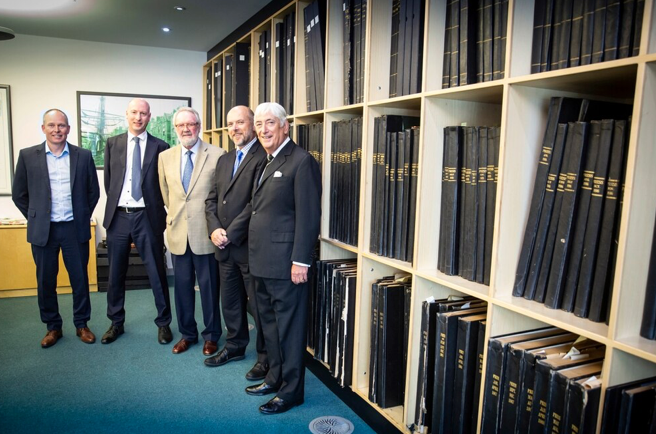 THE Guernsey Press Company Limited has been bought by a local investment company in a multi-million-pound deal.
The Channel Islands Media Group Limited, a joint venture between Bailiwick Investments Limited and MXC Capital Limited, has purchased the Guernsey Press Company and its wholly owned subsidiary Guernsey Distribution Limited from the Guiton Media Group Limited, a subsidiary of Wolverhampton-based Claverley Group.
The deal includes the production and distribution of The Guernsey Press newspaper, including its digital platforms and GY4 You app.
Guernsey Press managing director Mark Lewis said that the change of ownership was a positive one.
"This is the beginning of a new era for one of Guernsey's oldest and most-respected businesses. We, and our new owner, are confident that this acquisition represents a perfect alliance. We welcome the prospect of technological innovation that will enhance the island's leading news organisation and are delighted that the new owner is intent on driving forward the business whilst maintaining the culture of the Guernsey Press together with the community spirit that is the bedrock of everything we do," he said.
"After more than two decades of off-island ownership, we are looking forward to being part of a local company with the ambition, knowhow and contacts to develop the business."
Bailiwick Investments is an investment company quoted on The International Stock Exchange which has a substantial percentage of Channel Islands-based shareholders. Its objective is attaining long-term capital growth by investment in a diversified portfolio of investments. It's been investing in local businesses for more than a decade and its current portfolio includes shareholdings in Sandpiper CI Group, Jackson's Group, Guernsey Recycling Group, SigmaRoc and Oatlands.
Chairman Sir Geoffrey Rowland said that Bailiwick has a strong record of investing in well-established Channel Islands' businesses to enable them to grow and diversify.
"We invest and assist management to realise their objectives. Improving businesses for the benefit of staff, shareholders and the community is all important. We do not get involved in day-to-day operations but we are there to give strategic direction, provide support, explore new ideas and take advantage of opportunities.
"Our 10-year track record demonstrates that we attain long-term capital growth for our investors," he said.
"The Guernsey Press has played an important part in the development of our community. We are confident that Channel Islands Media Group, driven by Bailiwick Investments and MXC Guernsey, will ensure that the Guernsey Press has a brilliant future."
MXC Capital is an AIM-quoted investor in, and adviser to technology companies. CEO Ian Smith said MXC's experience would enable the Guernsey Press to embrace advances in technology.
"The media landscape has changed significantly in the last decade and technology has been at the heart of those changes. We are looking forward to being part of such a respected Guernsey name and helping it to develop technology whilst continuing to be a key source of news for the Bailiwick," he said.
Ravenscroft is investment manager to Bailiwick Investments and group CEO Jon Ravenscroft said the investment in the Guernsey Press complemented the other investments made.
"We are intent on ensuring that the Guernsey Press has a bright future under a new local company whose shareholders understand the hopes and aspirations of its readers and all Islanders.
"Channel Islands Media Group appreciates the valuable service which the newspaper and its digital platform provide, and how they can be improved for the benefit of the community. We look forward to working with management and staff to continue delivering an invaluable service to the community.'
Pictured, left to right, are: Guernsey Press operations director Darren Cooley, managing director Mark Lewis, chairman Terry Holder, editor Shaun Green and Sir Geoffrey Rowland, chairman of Bailiwick Investments Limited. Picture credit: Peter Frankland