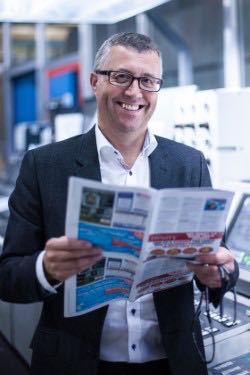 Precision Colour Printing managing director Alex Evans is to step down from his role with the company next February.
Alex, who has been MD since June 2005, will be succeeded by Mark Brownrigg, who was previously managing director at Skanem UK Limited, one of Europe's largest producers of self-adhesive labels. He will join PCP in November to work alongside Evans at the Telford-based commercial print company.
Evans will leave on February 28 2020 but will remain a non-executive director of the PCP board. He joined the PCP sales department in 1985 after four years working in advertising at sister company Midland News Association. He was appointed PCP sales director in 1995, becoming managing director 10 years later.
"I have enjoyed my time with PCP immensely, overseeing the company's transition from being a newspaper pre-print company to a fully-fledged commercial print operation," said Evans.
"It has been rewarding not only to lead the company but to see so many staff develop their roles over time. PCP has some outstanding people whose commitment has been pivotal in shaping the business as it is today.
"Working in the industry has allowed me to meet suppliers and customers who I now deem to be personal friends. I have benefited greatly from their support during my years in office.
"I have spent a huge amount of my life working for PCP and now look forward to new opportunities, both in business and personally. I am confident PCP will continue to be an important part of the Claverley Group and looking forward to supporting Mark in his new role."
Brownrigg joins PCP following a successful 22-year career in the print and packaging industry. In addition to being MD for Skanem UK, his experience includes being head of in-store communications for Iceland Foods across their estate of more than 760 stores.
From 2009 to 2017 he worked as chief operating officer and latterly as business transformation director for Coveris Flexible Packaging Ltd, one of the largest print and packaging suppliers to the UK FMCG market.
Brownrigg said: "I'm incredibly excited to be joining PCP and the wider Claverley team and being part of a group that is passionate, committed and so focused on exceeding customer expectations.
"I hope to build on the excellent work already done by the PCP team and continue to drive growth and innovation, both in securing new customers and delivering additional services to our current clients."
Claverley CEO Phil Inman paid tribute to Alex Evans: "Alex has been part of PCP's success for a remarkable length of time, leading the business during a time of considerable change within the print market.
"On behalf of Claverley I would like to thank Alex for all his efforts and his considerable contribution to the Group. PCP remains a market leader with a strong reputation for quality service. I look forward to working with Mark to shape PCP's future."