Recent independent reviews from Dame Frances Cairncross and Jason Furman have pointed to the excessive influence the duopoly exerts over the digital advertising marketplace and called for measures to be introduced to combat this.
A string of senior politicians including Chancellor Philip Hammond and Culture Secretary Jeremy Wright have called for the Competition and Markets Authority to investigate the digital marketplace – a move which the News Media Association has been calling for more than two years.
The Online Harms White Paper proposes a new regulator to crack down on the tech platforms while, the information commissioner highlighted a series of concerns around real time bidding.
The European Commission has fined Google on a number of occasions, most recently fining the platform €1.49 billion for abusive practices in online advertising.
In the North America, legislators such as Senator Elizabeth Warren are beginning to take action to protect journalism from the tech giants, with a recent study finding that Google receives an estimated $4.7 billion in revenue from US news publishers' content.
In a stinging piece for Mediatel referencing Nick Clegg's speech in Berlin, media commentator Ray Snoddy (below) said that Facebook's call for regulation is nothing more than smokescreen designed to fend off an enforced breakup of the business.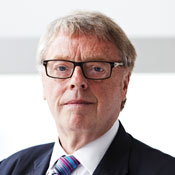 Snoddy said: "A 'respectable' European former politician has been sent out to argue for mild regulation to try to take the sting out of calls for something rather more robust.
"Such an approach would actually protect and entrench Facebook's existing monopoly. Potential rivals would find it difficult to cope with such things as compliance costs, which are already posing a noticeable burden on Facebook."
"Above all, this PR démarche is designed to try to head off growing demands that the only workable solution to the problem is to break Facebook up into its constituent parts."

Dangers
Snoddy also warned of the dangers of Facebook's plans to launch a new currency. He said: "What is staggeringly, jaw-droppingly new, and bare-faced cheek to boot, is the fact that Facebook, with its 2.3 billion subscribers and monopoly of social media, personal data and online advertising, should now aspire to create another monopoly – over money."
"Perhaps governments and regulators should pay attention this time. They allowed Zuckerberg to create one monopoly before belatedly waking up to the implications."
It would be decidedly careless if they allowed Facebook to leg them over once again."
In a piece in The Times, the paper's technology business editor Simon Duke argued that Ministers are "too lenient towards the tech giants' intrusion into our lives."
Mr Duke referenced the Information Commissioner's critical report of the ad tech industry which highlighted series of concerns around the use of personal data in the real time bidding process.
"It is extraordinary that an industry so opaque has been allowed to operate with impunity for so long. The Government has tried to make political capital from its futile restrictions on fizzy drink and gambling ads, but it has allowed scores of shadowy data brokers and adtech outfits, such as the now-defunct Cambridge Analytica, to make up rules as they go along."
"Ministers, too, have shown lenience towards these grubby intrusions into our private lives. In March Philip Hammond asked the competition watchdog to begin a preliminary study of the broader online advertising industry. Let's hope his successor expedites an investigation that is long overdue."