ST CLEMENTS PRESS, the printing arm of the FT, and Newsquest Oxford have won the prestigious Printer of the Year categories at newsawards 2020, run in association with Fujifilm and PJ.
The annual newsawards gala dinner and presentation evening at the Royal Lancaster Hotel, London, was one of the many casualties of Covid-19. Although judging of some of the 19 awards categories was called off, it had been possible to complete some categories just prior to lockdown.
The Irish Times Print Plant has been Highly Commended in the National printer category and Interpress NI just missed out on top spot and was Highly Commended for its Regional print portfolio.
The Guardian has won News Website of the Year, the Ozone Project has taken the trophy for International Digital Innovation of the Year while The Telegraph has been appauded for its Most Outstanding Use of Social Media.
The ICNN Independent Community Website of the Year is Birmingham Updates.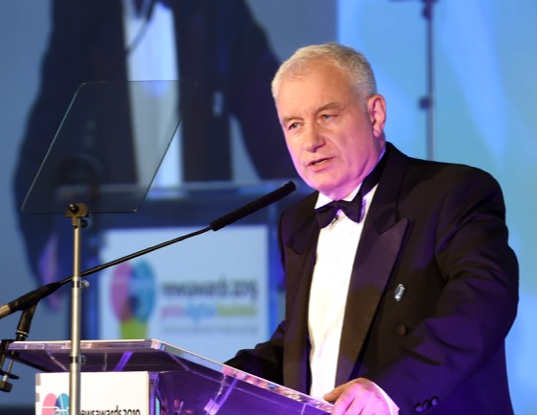 Gary Cullum, director of newsawards, (pictured at the 2019 event) says: "It's such a shame that we are not able to announce all of the category winners this year. We had hundreds of outstanding entries and I'd just like to thank everyone who entered the 2020 Awards for all their time and effort. We're looking forward to working with you all on next year's event.
"I'd also like to give special thanks to our sponsors who have stuck with us through these enormously difficult times for the industry. We are determined to deliver a really special event in 2021, when we can all celebrate the great things the news media industry has to offer now and into the future."
NATIONAL NEWSPAPER PRINTER OF THE YEAR
The Agfa Premier Award
WINNER St Clements Press (FT Weekend)
HIGHLY COMMENDED Irish Times Print Plant (The Irish Times)
COMMENDED
Harmsworth Quays Printing (Daily Mail)
JPIMedia Printing Portsmouth (Daily Mail)
Newsprinters (The Times)
Reach Printing Services Oldham (The Guardian)
West Ferry Printers (Metro)
REGIONAL NEWSPAPER PRINTER OF THE YEAR
The Agfa Premier Award
WINNER Newsquest Oxford (Stourbridge News)
HIGHLY COMMENDED Interpress NI (The Irish News)
COMMENDED
Discovery Print (The Courier)
Mortons Print (Henley Standard)
Newsquest Printing Glasgow (The Herald)
Reach Printing Services Teesside (The Journal)
NEWS WEBSITE OF THE YEAR
WINNER The Guardian "It really feels like the Guardian still tackles positive cause-based journalism that many shy away from. To do this, with the strategic vision and tech innovation clearly all pulling in the same direction, is all the more impressive"
HIGHLY COMMENDED The Telegraph "It has been a big year for The Telegraph which relaunched a very impressive website and introduced a unique new performance indicator."
COMMENDED FT : "The site is clean and slick and the subscription model the envy of the publishing world."
The Times & The Sunday Times : "Digital first news with an easy, attractive design."
i online: "A tremendous story, the UK's fastest growing national newspaper website in terms of audience growth."
KentOnline: "Fantastically innovative regional site with market leading editorial."

INTERNATIONAL DIGITAL INNOVATION OF THE YEAR
The Drag+drop Award
WINNER The Ozone Project "Digital innovation at great scale. A very important and successful project, building the digital advertising project of the future."
HIGHLY COMMENDED The Telegraph – Interactive Storytelling "Leading the way with digital innovation. A small team producing content that truly engages the reader."
COMMENDED The Guardian – The Daily: "Another polished, premium product from The Guardian."
FT – News Briefing Podcast: "The immediate interest from commercial partners and sponsors has marked out this initiative as one to watch."
Reach Solutions – Mantis Brand Safety: "Harnessing AI and using it to drive improved performance in the commercial space."
Evening Standard – Google Project: "An innovation that already looks like a key component of the paper's digital growth strategy."
OUTSTANDING USE OF SOCIAL MEDIA AWARD
WINNER The Telegraph – Snapchat "Brilliant use of all products on a platform to engage with a younger audience while remaining authentic. The array of compelling content is remarkable and is gaining traction with its target audience."
HIGHLY COMMENDED FT – Instagram 'The surprising and unexpected way it reached out was engaging but also made the editorial brand feel more authoritative."
COMMENDED The Independent – 'A brave, adventurous and ambitious approach to social media."
Birmingham Mail – Brummie Mummies: "Such a great product that fits a clear need for its consumers."
Daily Mirror – "Nice to see a newspaper engaging with younger social media platforms."
Birmingham Updates – "Thoughtful and interesting content. Busking Battle is pure genius."
THE ICNN INDEPENDENT COMMUNITY WEBSITE OF THE YEAR
Sponsored by Google News Initiative
WINNER Birmingham Updates "A very fresh clean design with no adverts but clearly labelled sponsored content. Short, snappy stories and smart revenue generation."
HIGHLY COMMENDED Island Echo "A very successful site with great ambition and growth plans. Investment in innovation is clearly paying off."
COMMENDED LymeOnline – "A great example of home grown local journalism."
Brighton and Hove News – "A well rounded content strategy appears to have paid off here. A good, solid local news proposition."
Dorset Biz News – "An interesting model that has gained traction very quickly. A success."
The Lincolnite – "Impressive social media strategy and great growth story."