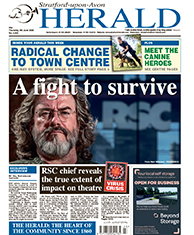 The future of the historic Stratford Herald has been secured after it was bought out of administration by a new company headed by press owners Edward Iliffe and Peter and Rory Fowler.
The 160-year-old title was placed into administration in early May. It has now been purchased by a new joint venture company, Stratford News and Media Ltd.
The deal also includes the award-winning website stratford-herald.com, free weekly newspaper the Midweek and the monthly Focus magazine.
The purchase is the third joint venture between Edward Iliffe and Peter and Rory Fowler, following their successful acquisitions of the Newbury Weekly News and Highland News and Media in 2019.
As with the previous acquisitions it is intended that a number of back office support functions for the new business will be provided by Iliffe Media Group
James Gurney, managing director of Iliffe Media Group (Central Division) will take charge of the Stratford operation.
He said: "The Stratford Herald is a successful and much-loved title, I am delighted that the paper will remain independent, being owned by two families that are passionate about the importance of local papers within their communities. I am really looking forward to working with the team and helping to take the business forward.
"Over the past 10 years the industry has become increasingly challenging for smaller independently-owned local newspaper publishers.
"The completion of this deal will allow us to plug into a larger group where there are opportunities to share resources and ideas, as well as to invest in exciting new initiatives that will help ensure we continue to engage with the local community, producing exceptional content that covers our entire diverse area."
Chief executive of Iliffe Media Group, Edward Iliffe, said: "We are delighted to have concluded the acquisition of this well-respected local newspaper.
"Iliffe Media, with its long heritage as an independent family-run media business, believes in the future of local publishing across all platforms and we now look forward to working in a positive way with our new colleagues and the communities they serve.
"I am also pleased to once again have the association with Peter Fowler in this new venture in Stratford. Peter has worked with the Iliffe family for many years and brings with him a wealth of publishing experience."
The acquisition has been led by Iliffe Media Group board director and experienced media industry adviser David Fordham, who has overseen all of the group's previous acquisitions.
The Stratford Herald was previously owned by the Boyden family and published its first edition in July 1860.