The Editor's Chair: Pandemic throws up fresh challenges for an industry experienced in change, writes Gary Cullum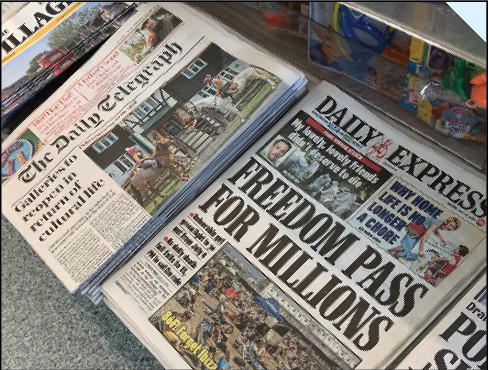 I'M back working in my office just off the village High Street, less than a stone's throw from home. I can hear the increase in traffic as life slowly returns to the 'new normal'.
The majority of news industry executives I'm in touch with are still working from their back bedroom, lounge or kitchen, but the print plant shifts have had to go to their respective manufacturing plants every day and work as socially distanced as possible.
I'm full of admiration for these employees, especially when some colleagues have been furloughed for more than two months.
Each morning before work I look in the newsagents to see if the national papers have made it – and there they are, laid out neatly on the shelf. Later in the week I check to ensure the two local weeklies have also made it off the press.
And today, as I'm writing this column, the Prime Minister has just announced the reduction of the two metres social distance rule, which enables pubs and restaurants to gain their 'independence' from 4 July.
The announcement also means it will be easier for news media folk to return to their office desks – but will they? Or will home working become the new norm?
What this pandemic has revealed is how smart use of the available technology has enabled our industry to join up its dots while working remotely, with publishing teams bringing pages together from all parts of the country.
And the word Zoom has taken on new meaning; it is no longer another word for speeding, a change in focus or a 1970s ice lolly. Twitter was one of the first companies to send its workforce home when coronavirus hit. And in May the company was the first to make remote working a permanent option. Employees can continue working from home – or anywhere else that makes them happy and productive – forever. The policy does not apply to those whose job necessitates being in the company's buildings, such as maintenance workers or those looking after servers.
Big office builds: are they needed?
"Opening offices will be our decision, when and if our employees come back, will be theirs," said Twitter HR head Jennifer Christie in a blog. But what of Google and its £1 billion London headquarters under construction at King's Cross or Apple's new HQ being built at Battersea Power Station?
Both builds went on hold at lockdown. Once complete, will they be fit for the original purpose?
The virus has made us act, think and operate differently. It's good to see that the Stationers' Company, whose Apprentice 20 event scheduled for the end of June had to be cancelled (like so many other industry events this spring ) has created a new apprenticeship resource in the form of a website. This will enable young people and other stakeholders to explore the world of apprenticeships and some fantastic career opportunities.
It will open doors to lead directly to more than 40 employers – including the Telegraph and Evening Standard – offering an extraordinary and dynamic range of career pathways.
As the media industries rise again, the future of the virus may be uncertain, but one thing is for sure: news media publishing is needed more than ever to keep people informed and hold authorities to account. Once again, our business models will need to change and collaborate as we rise to meet new challenges and embrace innovative new ideas, new technologies and new talent.